Description
"Coin Die Box" "The Pizza Oven"  Whatever you call it, this trick has been a kid-show staple for years.  While it's a FUN sucker-type routine, the trick itself has never been that strong.  We've always thought, "The only one REALLY being fooled is the guy holding the box."
We decided to fix that.
You can still perform your standard die box routine; placing the pizza disc into the box and opening the doors one at a time to show it's vanished.  Of course, they SEE it rolling from side to side.  Then once their fervor has reached a complete frenzy, you open both doors.  The pizza has actually disappeared.
Imagine the same type of box, but with a major difference — two big holes in the back.  Holes big enough to poke your hands through.   The disc isn't behind some black art panel or stuck to the door.  It's just GONE!
Includes an extra pizza disc that can be reproduced later…having it appear on your back is always a good choice.  Precision built from unbreakable plastics, aluminum, cabinet-grade plywood and covered in our TuffKote laminate.
Box dimensions:  22″ x 9½" x 1½"  (56cm x 24cm x 4cm)
Got a NEAT ROUTINE that won't work with Pizzas?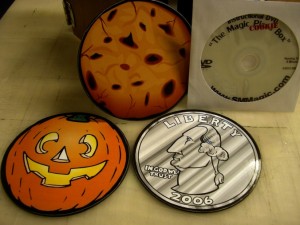 CLICK HERE FOR ALTERNATE DISCS!