Smoky Mountain Magic is a company devoted to offering solidly built props, innovative new ideas…and magic that just makes sense.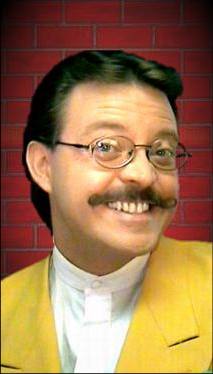 DAN WOLFE – Inventor, Builder, Artist, Creative Consultant and Craftsman.
Dan has been in love with Magic all his life.  Having presented his hilarious Magic from New York to Moscow, his crowning achievement came when he was voted "Best Overall Entertainer" by the P.O.N.Y. Comedy Association for a fourth consecutive year.
Being something of an inventor — his wife insists he has 'Creative A.D.D.' — he first began building his own tricks and illusions out of necessity.  "No one sold the crazy stuff I dreamed up, so I made them myself.  Grandpa built furniture and cuckoo clocks from scratch.  My father is a cabinetmaker and gunsmith.  I guess it was just in my genes."
Dan's forte' is in developing new magic, innovative twists on older effects and most visibly, his artwork.  He is also in demand as a Design and Creative Consultant — helping Magicians to get their dreams out of their heads and onto the stage where an audience can enjoy them.
He seldom performs these days.  His 200 show tour schedule of previous years has been greatly scaled back to concentrate on designing and building for Smoky Mountain Magic's Clients.  He still hosts occasional workshops on Gospel Magic, comedy and magical creativity.
…and, yes the goofy handlebar moustache is real.