How to Place an Order
Simply call us at (423) 943-7294 or send us an email.  Since no two customers are alike, nothing is usually "standard."  We will be happy to discuss your unique requirements and suggest solutions.
Payment
Payment can be made via credit card over the phone when we discuss your project.  Visa and MasterCard are accepted.
You may also choose to mail us a check…slower, but just as effective.
On some smaller "off-the-shelf" props, PayPal is also shown as a payment option.  You DO NOT have to register with PayPal to use this service.  Visa, MasterCard, American Express, Discover Cards and Electronic Checks are accepted via PayPal.
NOTE: Shipping calculated on PayPal orders is for DOMESTIC U.S. ORDERS ONLY!  If your order is being shipped to a location OUTSIDE the United States, we will send you an email containing a payment link for the additional shipping amount after your order has been received, packed and processed.
Terms
Unless specified, prices listed on this website DO NOT include shipping.  We generally ship via U.S. Mail, UPS or air freight, depending on size of the delivery and destination.
For any project over $500, a minimum 50% deposit is required before any production work will begin.  When the project is completed, digital photos will be emailed to you along with a payment request for the remaining balance and shipping cost.
  Deposits are not refundable.
NOTE: Shipping costs cannot be accurately calculated until the final product is packed and weighed.  You may be billed separately for shipping.
Customization is handled separately.  Upon design approval, a check for the artwork or credit card information is required before work begins and is held until the art is complete and applied to your prop.  Upon completion, you will be sent digital photos and the payment deposited or credit card charged.
Conditions
NOTICE: Due to their very nature, many magic tricks and illusions may be inherently dangerous.  The Buyer assumes ALL risk in the safe use of these items and at the time of purchase agrees that Smoky Mountain Magic will not be held liable for any damage to persons or property, physical or otherwise, to himself or others resulting from the use of thes props, which are sold under as-is conditions.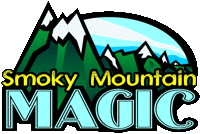 For SPECIFIC questions, CONTACT US. We will always be glad to help in any way we can.