MERRY CHRISTMAS from the Smoky Mountains!
Been CRAZY BUSY around the workshop preparing for the Holidays.  (I need ELVES!)  But our three offerings for Christmas 2013 are finally here!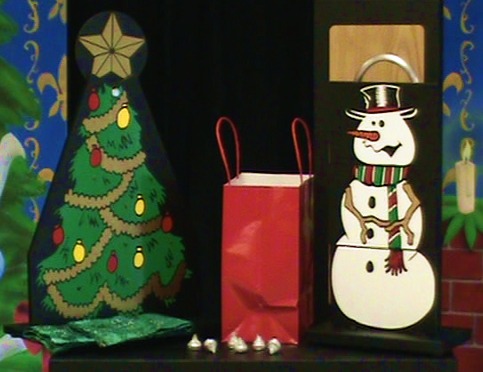 The first is "Sweet Dream", our own take on the classic Miser's Dream, but with two differences.  First, NO sleight of hand is required.  Second, it uses chocolate kisses.  Perfect for Christmas…or kid shows ANY time of year!  CLICK HERE to check it out.
The next is "Frantic Frosty", the classic kidshow strat-o/in-the-closet/chimney kind of thing, but again given our own special twist.  This is a STAGE SIZE prop, but it packs FLAT!  No more bulky blocks to lug around.  Check it out HERE.
We also have a VERY limited number of Santa Block sets for our StratBlocks trick.
And finally, "The Lost Star."  This is a beautiful piece that while based on the "Forgetful Freddie" trick, has a heart-touching message (Gospel or NON-Gospel) that will EASILY close your holiday show!  And if that wasn't enough…the tree actually LIGHTS UP at the end!  You've got to SEE THIS ONE.
Regarding availability, we have a batch of each of these items ready to go!  These are a LIMITED QUANTITY!  Don't know if we'll have time to make any more this year or not.  (Doubt it.)  When they're gone, they're gone until next year.  Get 'em while they last!
Place your order now and we'll send it out ASAP!
I don't know how many more updates well be able to post during the Holiday Season, so let me take this opportunity to say THANK YOU to all of you for your support this year.  You are truly ALL my friends (on Facebook or not).
I don't care who you are, what your religion is, what you choose to celebrate or if you celebrate at all, the sentiment is the same.  May all the joy of the holiday season be yours…now and always.
Merry Christmas, y'all.
Dan Wolfe
Smoky Mountain Magic