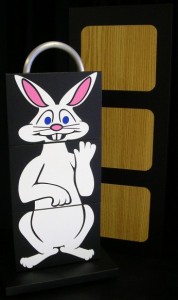 A fun routine for your family shows…and Smoky Mountain quality! Three blocks are shown that when properly stacked form an image.  Problem is, no matter how you drop them into the tube, they're never properly stacked!  Somehow, the top block is always out of place. After a few failed attempts, you realize it's the top one that's causing problems.  So, you drop the block into a small bag and it vanishes! Lifting the cover, not only has the block returned…but it's finally in the right place!
NOTE: The routine you see in this demo was ad-libbed by Dan…after too many 14-hour days at the workshop making snowman tricks and a BIT too much Red Bull. Copy his patter at your peril!
You'll recognize this as the old Strat-o-spheres plot, but it's not the same old prop!  Our version uses tiles rather than blocks — 5″ x 7″ (130mm x 180mm) for great visibility from stage…but only about an inch thick!  Talk about packing flat!
The base stand has non-skid rubber feet and a large aluminum holder to keep everything erect and aligned.  The cover is made from an aluminum-plastic hybrid and birch ply on the sides.  Grip uses the standard *hole* method. The entire outfit is covered in TuffKote laminate with vinyl graphics that really POP.
The cover and stand are decorated very generically.  Why?  So when you want to use something like this during other times of the year, you don't have to buy a whole new trick.  We can provide you with *just* the blocks for Halloween shows, Easter shows, ANYTIME shows!
Choose from COW, PIRATE, BUNNY, BALLS, FROSTY, FRANKIE, SKINNY, SANTA, FOSSIL or (NEW!) HERO and ABC's
We supply the aluminum base stand, cover, rip-open bag to vanish the block, instruction DVD and one set of blocks…your choice!
StratBlocks (SET) – $195.00
Already have the trick and JUST need another set of blocks?  WE CAN DO THAT!
StratBlocks (BLOCKS ONLY) – $85.00
Strat Blocks BOX!
We'd been asked to create a better vanish for the troublesome block…AND HERE IT IS!  A *Gung Ho* style vanish box perfectly sized to fit the Strat Blocks.  Just drop the block in through the top, pull the box open AND IT'S GONE!
StratBlocks BOX – $85.00
Please see our "TERMS" Page for details on placing PayPal Orders.