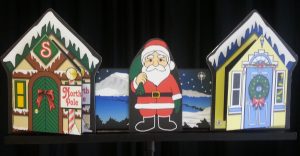 Recently we were contacted by a full-time Santa. He had a number of Smoky Mountain props, loved them and wanted something special.
What could we do with the Run Rabbit Run concept? Specifically something that would explain how Santa gets into the house when there's no chimney.
I had a RRR many years ago. Never liked the vanish. We needed to do something different.   Add a bit more mystery.
We went to work…
Before you ask:  Santa is only ONE of the many themes we will be making available.  Look for them to be listed here in the next few weeks.  And YES, they are EASILY interchangeable!
There will also be THREE sizes available:
SMALL – Base 22″ long, Figure 7″ tall, Houses 10″ tall
MEDIUM – Base 28″ long, Figure 9″ tall, Houses 12″ tall
LARGE – Base 36″ long, Figure 12″ tall, Houses 16″ tall
(MEDIUM is shown in the demo video)
Includes an extra Figure that can be reproduced later…having it appear on your back is always a good choice.   Folding stand also included on Medium and Large sizes.  Small will fit comfortably on your performing table.
Precision built from rugged plastics, aluminum, cabinet-grade plywood, all digital graphics and protected by our new CLEAR TuffKote laminate.
Price: SMALL ~ $295.00 + shipping
MEDIUM ~ $395.00 + shipping
LARGE ~ $495.00 + shipping
 Price on additional themes, TBA.
STATUS: CURRENTLY IN PRODUCTION
The first batch will be ready later-June or early July
Pre-Orders will be filled first
INTERNATIONAL CUSTOMERS: Please see our "TERMS" Page for details on placing PayPal Orders.