A classic piece, given a few Smoky Mountain twists!
A balloon is inflated and placed into a cage.  You wave your hand and the balloon bursts, revealing a bunny!
No need for a hokey wand with a pin taped to it…though you CAN still do it that way if you like.   Just touch the lever and a spring-loaded arm does the job nicely!  The trap is also lightly sprung for a crisper, visual production.
Furniture grade Birch plywood, TuffKote laminate.  Balloon area lined with rich, black suede for amazing contrast; it's more durable than the traditional velvet.
Available with the classic box shape and regular bars – Steampunk graphics extra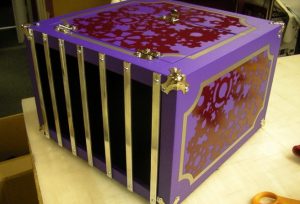 Our modern X shape and funky bars (tight nylon parachute cord) for a more dynamic feel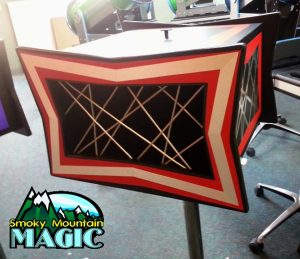 Or the Transparent Target front, which is the perfect companion to our Rabbit Cannon!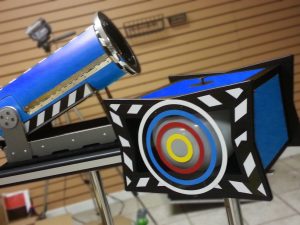 Available in a table-top version ($485) or with it's own free-standing, rolling base ($595).  Load size is approximately 5″ x 9″ x 13″…about the size of a double-roll of paper towels.
Select your options below ~ Shipping costs not included 
BALLOON TO RABBIT (SELECT STYLE)