Hey y'all!  Hope that this month finds you incredibly busy with holiday shows!  (And hopefully using a BUNCH of Holiday Magic from Smoky Mountain!)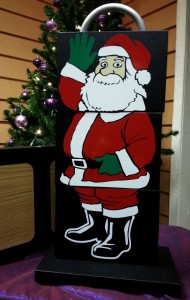 Been BUSY BUSY BUSY as elves ourselves!  Making what?  Well, let' see…
The Magic Cookie Box is finally here!  I know…we teased it on our Facebook Page before Kidabra back in August.  It just took a while to get all the ducks in a row.  But they are IN STOCK AND READY TO SHIP!  There are also different disc design to choose from to change the theme for your show, quickly and easily.
After NUMEROUS requests, we've finally created a BETTER VANISH for the StratBlocks trick.  It's basically a flat version of the Gung Ho Box that traditionally is used with the Strat-o-spheres.  We can even customize it for you if you like.  Again, they're IN STOCK and can be in your hands ASAP.
Speaking of the StratBlocks, there are TWO new designs available.  Have a peek at the Santa and "Fossil" blocks!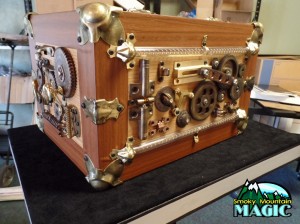 We've also been working on a BUNCH of our JARRETT SHOE MACHINE.  I hesitate to put "shoe" in the name.  Too many folks thinking, "ANOTHER shoe burning trick?"  But this one isn't just for shoes anymore!  CHECK OUT THE VIDEO and let us know what you think!  They're not *in stock* yet…but will be finished very, VERY soon.  Once this first run is gone, it may be next Summer before we get another batch into the pipeline.
For those of you who may procrastinate a little…we DO have ALL of our Holiday Magic in stock and ready to ship.  Need a Lost Star, Frantic Frosty or Miser's Sweet Dream for next weekend?  Not a problem!  (If you're domestic, that is…international takes a bit longer.)
As far as LARGE pieces go, there are (I believe), two Thru Steel Illusions in stock.  The Instant Magician Stand is ready to ship and of course the Pizza Boxes and Pop Guns.
Coming up?  Well, a couple of new ILLUSIONS in the pipeline.  A number of stage-sized kidshow pieces…and perhaps something NEW for our series of Close-Up Illusions.
MORE exciting things happening behind the scenes here…convention and TV appearances, theme park shows we're working with, custom pieces that are gonna knock your socks off!  To keep up with our happenings, WATCH OUR FACEBOOK PAGE!  This site only gets updated every so often.  The new, COOL stuff?  We get excited and put it on Facebook.  ;-}
Gotta get back to work.  Later y'all!
~ Dan Wolfe, Smoky Mountain Magic