Okay, so the Instant/Fantasy Magician isn't an illusion
…but with this addition, it plays HUGE!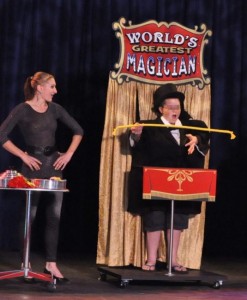 Illusionist Tristan Christ came to us with a problem.  He wanted to present this hilarious routine as part of his daily shows at Circus World in Baraboo, Wisconsin.  At the planning meeting the lawyers said…
"You're going invite a small boy onto the stage and reach through the coat to make it looks like he's doing magic tricks.  Cute!
But
…your crotch will be where?"
Together we devised a plan to keep potential lawsuits away.  The lawyers were delighted!
Not only does Smoky Mountain's "World's Greatest Magician" stand make the effect play like a HUGE stage illusion (not to mention a wonderful promotional photo-op), it also features a solid panel that physically separates the performer and the volunteer.
Recently, we redesigned the mechanism so the prop literally sets up in seconds.  The first Client who got one thought it was SO COOL, he sets his up in front of the audience!
Note:  The transparent curtain in the video was only temporary.
Includes the wheeled platform (locking rear casters), folding table, pop-up curtained backdrop and gorgeous "World's Greatest Magician" signage.
Instant/Fantasy Magician Stand
Price: $815.00
  "Instant Magician" by Kevin James or "Fantasy Magician" by Ken Scott are NOT included.  You will need to purchase those separately elsewhere.