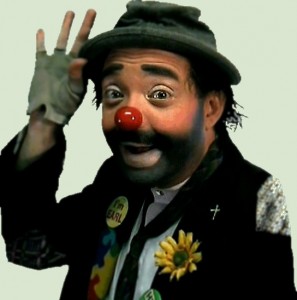 OKAY!  I admit it.
Once upon a time, I, Dan Wolfe, Owner of Smoky Mountain Magic, was a Professional Clown.
REALLY!
Now, don't get the wrong idea. I wasn't your typical Birthday Party Clown. Think I did one birthday party in fifteen years. I worked in theatres, not back yards.
Think Red Skelton, not Bozo.
…and I wasn't bad, either! As "The Amazing EARL," I gathered more than a dozen trophies for solo comedy performance, balloons, puppetry and of course, MAGIC. Even got named "Best Overall Entertainer" by an International Comedy Association for an unprecedented four consecutive years.
Apparently, I didn't suck.
Recently, I came into possession of a BUNCH of Clown Stuff. (Favor for a friend who needed the money…long story.) Suddenly, I have enough brand new, still-in-the-packaging makeup, wigs, costumes and comedy props to fill a small store. I don't use it. I don't need it. It's just taking up space in my warehouse…a corner I've nicknamed "Earl's Clown Closet."
These are NOT items which Smoky Mountain Magic will be keeping in stock.
If you want something, grab it quick! When this stuff is gone…it's gone.